Download Our Current Linecard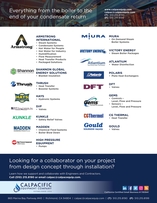 All our product, all our brands, in one simple document.
Calpacific Equipment Company has over 100 years of experience, just in the sales team alone. Let us be your one stop shop for everything from the boiler to the end of your condensate return. We can supply everything but the pipe!
Contact your sales representative for additional available products to meet your specific needs.
Complete the attached form to download our current Linecard.